About Us
Zoup! Eatery is the newest version of Zoup!, combining the best of our soup and natural broth legacy with an expanded, fresh menu, updated technology and modern feel.
Looking For Something Different?
Zoup! is a franchise of locally owned and operated fast casual eateries across the U.S. and Ontario. Since 1998, the brand has led the soup-differentiated category of Fast-Casual by focusing on its star lineup of 12 daily soups and made-to-order salads and sandwiches. To build on these strengths, support franchise owners' growth and create value and excitement for guests, the brand is introducing an all-new restaurant design, a frictionless customer-facing tech platform and new bold, chef-driven menu items.
Recent menu additions include six Sustain-a-Bowls, which are big flavor meals with all-natural, healthy ingredients like Zoup! Broth, ancient grains, cauliflower rice and housemade sauces. Varieties like Hearty Sesame and Cowboy Ranch Grain Bowls, and Korean Zing and Vegan Nation Broth Bowls are part of the new lineup. The brand has also introduced organic, craft beverages, which are made fresh daily in small batches in flavors like Hibiscus Bloom, Vintage Lemonade and Sri Lankan Black Tea.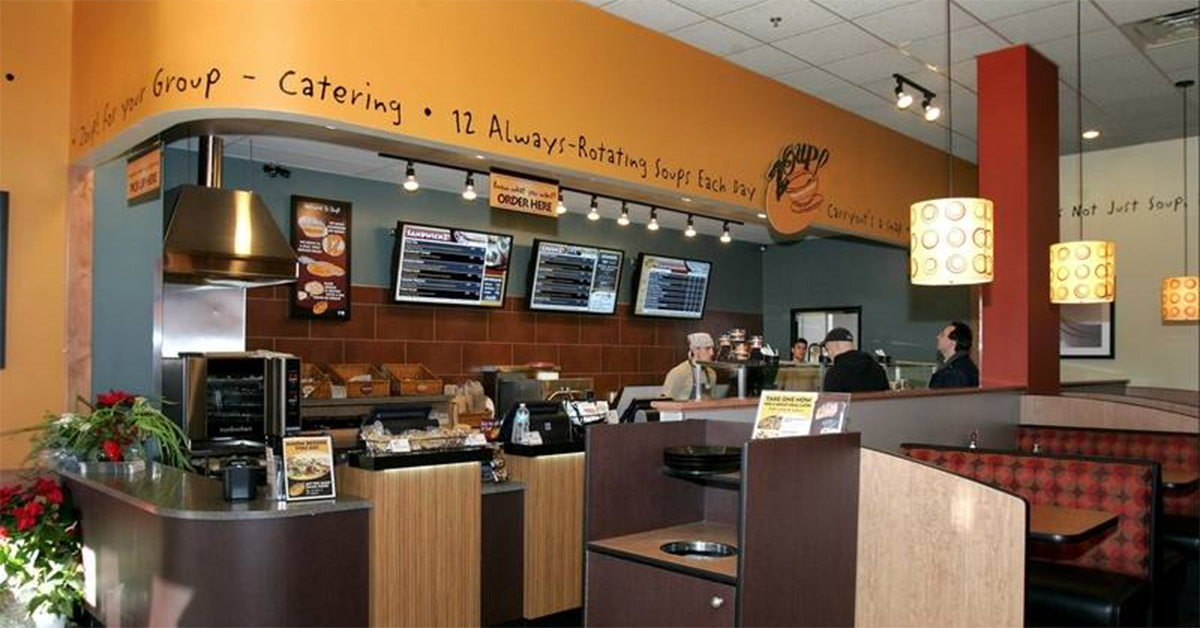 Join An Established Brand In A Growing Segment
The Zoup! Eatery brand offers a complete array of features, systems and support programs to provide franchisees with all the tools they need to build their own successful businesses.
- Established brand and leader in niche category
- Strong, proven infrastructure
- "Lifestyle hours" of operation
- No sales ramp up or accounts receivable
- An authentic, strategic and transferable culture
- Single-unit, multi-unit or semi-absentee option for greater financial flexibility and security
- Unique offering that does not compete with players in the pizza, sub, burger, etc. categories for real estate or customers
What Others Are Saying
The Zoup! concept receives accolades from local and national media and organizations and has consistently earned rankings on Franchise Gator's Top 100, Fast Casual's Top 100 Movers & Shakers and Entrepreneur's Franchise 500. And, in Franchise Business Review's independent survey of our own franchisees, we earn high marks in the key areas of financial opportunity, training and support, leadership, operations and product development, and core values.
Ideal Candidate
Zoup! is a great franchise opportunity for someone who enjoys working with people, is very organized, works well with systems and is computer savvy. Management experience is a must for motivating a team of 12 part-time employees.