Experience the Altitude Difference
At Altitude Trampoline Parks, we strive to be the global leader in active indoor entertainment. Altitude parks are family-friendly, inclusive of all ages and skill types and encourage people to move and connect, celebrating life's most memorable moments.
Altitude parks set the standard in premium trampoline park venues. These custom-designed facilities are creatively outfitted to provide exercise and entertainment for guests of all ages. They allow our guests to defy gravity, learn new skills, build confidence, and push their limits to new and exhilarating heights.
Powerful Performance
Our numbers reach new heights with every guest experience.
$2,217,868* - Average Net Revenue For The Top 50% Of Our Franchise Owners.
85+ Parks - Open and Under Development. More Opening Every Quarter.
Multiple Revenue Streams - Concessions, Apparel, Birthday Parties, Events, Memberships and More
$1,687,801* - Average Sales Per Store (For All Stores.)
Cleanliness & Safety
Cleanliness and safety are top considerations at Altitude. We've developed a revolutionary C3 ("Caring through Cleanliness and Certification") program to properly equip franchisees in maintaining the highest levels of sanitation. This full-park protocol includes extensive cleaning procedures before, during, and after operational hours. C3 uses only CDC-approved cleaning products audited by EcoSure, ensuring Altitude meets the highest industry standards.
About The Parks
Altitude Trampoline Parks provide franchisees with a diversified mix of revenue opportunities. Newly added attractions like ninja courses, augmented reality games, performance trampolines, trapeze facilities, and more make Altitude a go-to for unique indoor entertainment. Attractions get our guests through the door, but they clamor back for birthday parties, group events, and dedicated toddler time jump passes and membership programs.
Franchise Services & Support
As a franchisee with Altitude Trampoline Parks, you enter the industry well-equipped for long-term success. We offer valuable services and ongoing support that not only gets you started, but also will keep you going well into your ownership. We offer contracted accounting, marketing, and oversight services from the day you join our team.
Our unique concept is perfectly positioned to meet the real needs of today's consumers. We deliver fun, social connection, wellness, and physical activity in one engaging package. Our combined knowledge of more than 45 years of corporate management experience will power your franchise journey.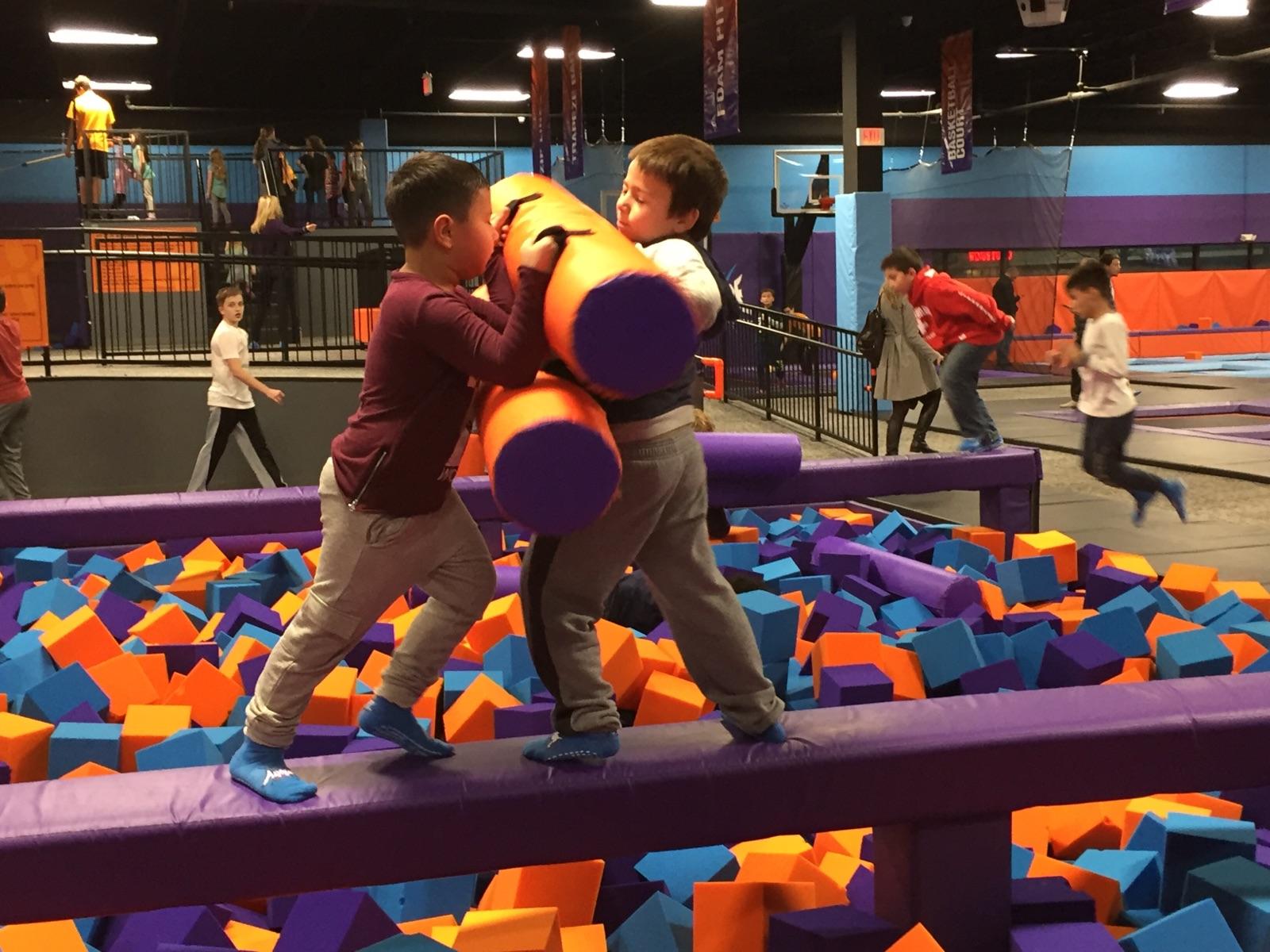 Risk Management
Altitude Trampoline Parks provide franchise owners with a robust set of tools and resources to assist with risk management. From intensive safety training for personnel and guest waivers to legal support, Altitude owners are covered end-to-end by our dedicated team of risk management professionals.
Training
Altitude is committed to providing best-in-class training and tools for your franchisee success. This includes training programs for everyone on your team. We bring General Managers to our training facilities and provide them with a full education covering all operational aspects. Court monitors receive onsite training carefully aligned with Altitude's mission and safety standards.
Real Estate
Our real estate team is equipped to help you find the prime location for your new franchise. Our custom software pinpoints optimal locations for our targeted demographic. Altitude brings owners in on the search to work alongside our real estate pros in selecting the best locale.
With three brand prototypes to choose from, you can create an engaging Altitude location in nearly any type of facility. Our Altitude Essential locations require just 20,000 square feet, while Altitude Legacy and Altitude Elite sites may cover 30,000 square feet or more.